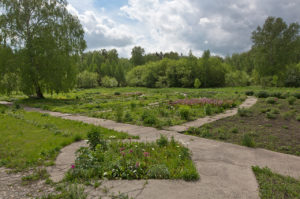 Functional parts of collections and expositions:
the "systematics" exposition is a systematic collection.  The plants in it are arranged according to the families (mainly Altaic flora species) in radially arranged sectors – from single-sided in the center to complex colored ones closer to the perimeter.
The exposition "Arboretum" is built on the principle of habitats of certain woody and bush species in specific plant communities typical for the Altai.
In the Alpine garden there are species suffering from rotting in Barnaul conditions.
The exposition of "shady-bearing plants" is located under the canopy of birch-pine forest with the participation of Sorbus sibirica, linden and Picea.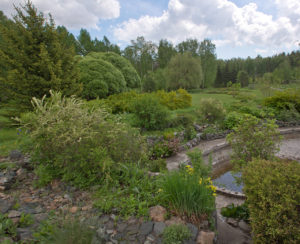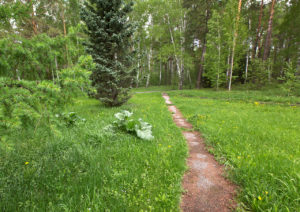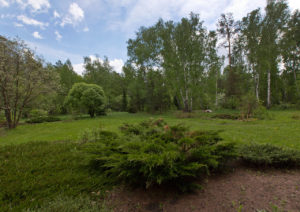 The collection of the garden has 1587 taxa (962 species, 625 forms and cultivars), of which:
Systematic collection is represented by 350 species (50 species monocotyledonous, 300 dicotyledonous);
there are 270 species (80 monocotyledonous, 190 dicotyledonous) growing in the Alpine garden;
in the shady area 160 species (30 species of spore vascular, 25 species of monocotyledonous, 105 species of dicotyledonous);
in the arboretum there are 165 species (25 gymnosperm, 140 seed plants) and 46 cultivars;;
a collection of ornamental plants is presented: day lily (2 species, 60 cultivars), irises (95 cultivars), peonies (3 species, 29 cultivars), astilboy (2 species, 12 cultivars), flocks (25 cultivars), chrysanthemums (3 species, 2 forms), delfinium (7 species, 8 cultivars), tulips (300 cultivars), daffodils (50 cultivars), lilies (38 cultivars), Muscari (3 species, 10 cultivars);;
collections of annuals include 120 varieties of species widely distributed in culture (tagetes, escholation, etc.);
biennials are represented by 200 varieties from 33 families.
SSBG collections are registered in the introduction log with phenological tables and in the landing log.